Joe Lucas
is the role
Joe Jonas
plays in the tv show
JONAS
. He is the second oldest brother, being older than
Nick
and Frankie, and younger than
Kevin
. He has a band with two of his brothers, Nick and Kevin and lives with his family in an abandoned firehouse. His best friend, who he secretly is in love with, is Stella Malone.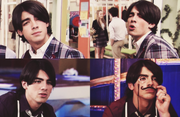 Near the end of the series, Stella and Joe finally admit their feelings and start dating.
Ad blocker interference detected!
Wikia is a free-to-use site that makes money from advertising. We have a modified experience for viewers using ad blockers

Wikia is not accessible if you've made further modifications. Remove the custom ad blocker rule(s) and the page will load as expected.