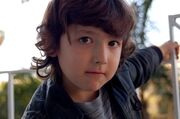 Franklin "Frankie" Nathaniel Jonas is the youngest member of the Jonas family. He is the son of Kevin Sr. and Denise Jonas and was born on September 28, 2000 in Wyckoff, New Jersey. Although he is not in the group his brothers, Nick, Kevin, and Joe call him the "Bonus Jonas". Sometimes he is called "Frank The Tank" or "The Man". Frankie writes songs and sings them with the help of his brothers. Frankie's dream is to be in his brothers' band, the Jonas Brothers.
Although his dream isn't achieved yet, he and some of his friends have made a band named "Hollywood Shake Up".
Frankie appears several episodes of JONAS (now called JONAS L.A.), as well as previous Jonas Brothers shows, such as Living the Dream and Band in a Bus.
Ad blocker interference detected!
Wikia is a free-to-use site that makes money from advertising. We have a modified experience for viewers using ad blockers

Wikia is not accessible if you've made further modifications. Remove the custom ad blocker rule(s) and the page will load as expected.